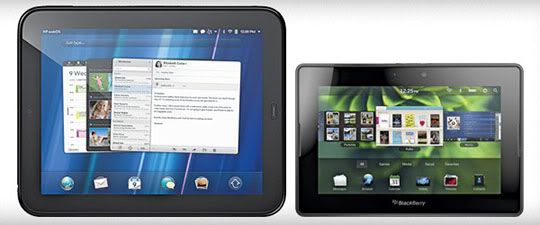 When their up, try and shoot em' down, seems to be the tactic of HP in a battle against the BlackBerry PlayBook. The argument is that RIM's BlackBerry Playbook borrows too heavily from the UI concepts of the software built by Palm and now owned by HP that it could easily be confused for a webOS tablet. Both handle multiple running applications using a zoomed out card view which also allows the user to close unwanted apps by swiping them off the screen. Although, the PlayBook goes further with gestures that are lacking in HP's tablet. The Hewlett Packard team makes a statement in regards to the similarity as:
"keep innovating, we'll keep honing and those guys hopefully will continue to see the value in it and keep following us by about a year."
Pretty Bold Statement!
RIM's response, as espoused by Jeff McDowell, as he says:
"when you're trying to optimize user experience that juggles multitasking, multiple apps open at once and on a small screen, you're going to get people landing on similar kinds of designs. In fact, I think QNX had that design lined up before we even started working with them."
While Mr. McDowell certainly could have thrown a low blow and mentioned the fact that webOS is basically a ripoff version of iOS in many ways, the fact is, these are private companies in a competitive market that seems to be plagued with more lawsuits than a Dalmatian has spots - so of course it's not a surprise to see competitors taking shots at each other. What's your take? Did RIM take from webOS, or did HP take from OS QNX? Does it really matter?