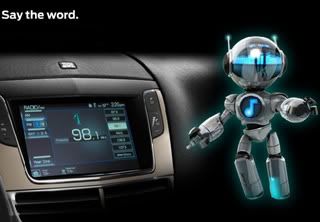 Ford officially rolls out a BlackBerry app for Sync called AppLink which is basically a set of APIs that can extend an apps functionality to the car using both voice and steering wheel controls in Ford cars. It turns out that the recent Pandora update was to add compatibility for this new AppLink along with updates for Sticher and OpenBeak as the first SYNC enabled apps.
The AppLink works with SYNC over Bluetooth to connect your phone and you press the voice button on the steering wheel to say a command. To get mobile apps you say "Mobile Applications" followed by the app name. Once you have an app like Pandora loaded, you say something like "Play station classic rock radio," "Bookmark song," "Thumbs up" or "Thumbs down."
Currently only the 2011 Ford Fiesta is getting voice control and AppLink but it looks like other SYNC enabled cars will soon follow.
If you are a current 2011 Ford Fiesta owner, the app is available through the download link provided below, but you will have to log into your Sync account to get AppLink. Please be sure to let us know how the app works in our forums.